Kaitlin Harvey is a third-generation Colorado native, and a natural born lover of the arts and design. Growing up in Park Hill, her deep ties to the City of Denver began with performances at the Buell Theatre and Ellie Caulkins Opera House, dancing in countless productions with The Colorado Ballet. Though she's watched the landscape of the City drastically change over the past 20+ years, that special connection to the Performing Arts Community was the beginning of her decade's long affair with people and place.
She took that competitive edge to The Big Apple, graduating Cum Laude with dual degrees from NYU, where New York City itself continued to nurture her love of design, urban living, and ultimately connecting with people. Armed with an extensive background in real estate marketing from her years working for a luxury condominium developer in NYC, Kaitlin has cultivated both an expert storytelling skillset and a perfectionist eye for detail. Her passion for helping people coupled with her trustworthiness and ability to manage expectations, results in genuine and lasting relationships with her clients.
Back in the Mile High City for the last 10+ years, she's represented buyers and sellers in transactions involving a range of home styles priced from $400K up to $3M. With specialized skills selling new development projects in LoHi and Vail Village, she's been a part of over 100+ transactions, with a combined team sales volume over $110M, while maintaining a 5-star reputation with her clients. Living in City Park West, Kaitlin has re-discovered her passion for the different pockets that make Denver a one-of-one and continues to be passionate about helping her people find "their place" in her beloved hometown city.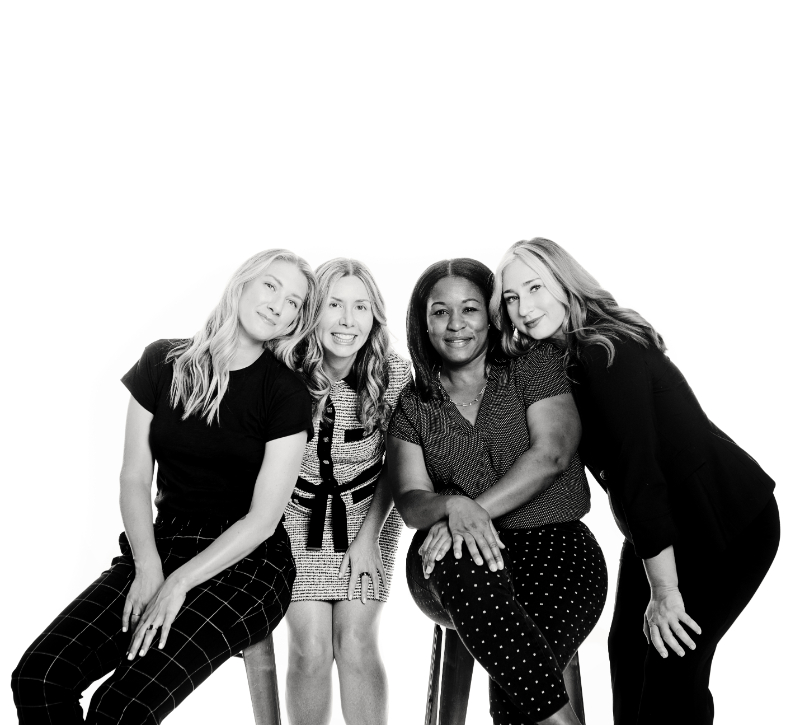 denver vibe team within milehimodern
Crafting a custom buying and selling experience is a guiding principle for the reputable team comprised of Nicole Rufener, Kimberly Chatman and Kaitlin Harvey. Their team is dedicated to moving people in meaningful ways. They succeed at this by discovering the narrative of each home and matching clients with these heartfelt stories. In this competitive market, operating simultaneously is the most effective way to provide concierge-level service.
professional proficiencies
client love
Kaitlin helped my wife and I purchase a beautiful home last year — she is amazing. We were tough and picky clients, but Kaitlin handled everything we needed and much, much more. Best things about working with Kaitlin: (1) nimble, responsive and gets things done fast, (2) somehow always available at any time, makes you feel like the only client in the world, (3) deep knowledge of the market, (4) great attitude and constant encouragement in a tough process and (5) goes above and beyond constantly. We honestly could not believe the level of service we got from Kaitlin. Our process took us almost 6 months to get a house under contract, and we probably looked at over 20 homes with her. We even got one house under contract but then we decided to terminate the contract because of engineering issues. When we finally found "the one," Kaitlin helped us negotiate the price and probably saved us $50,000 or more by helping us figure out exactly what to bid, how to frame it and more. Kaitlin guided us every step of the way and made sure that we ended up in a dream home — she was like a superhero attending to every step of the process and guiding us to the perfect result. We are grateful and you will be too — hire her!
We can't say enough good things about Kaitlin! She is a consummate professional and is also very relaxed. She put us right at ease throughout the process of buying our first home, making it actually a breeze despite Denver's insanely competitive market. She was tireless and advocated for us every step of the way. She gave excellent advice on how to structure our offers but never pressured us into any offer that we weren't completely happy with. She made sure all the details were both to our best advantage and comfortable for our particular situation. She has deep local knowledge as a Denver native, and she proved to be a savvy guide. We couldn't have asked for anyone better to go through this process with us, and we recommend her wholeheartedly to anyone looking for a skilled and loyal agent!
Kaitlin was so great that out of four realtors we worked with to sell our house and buy a new one, we would work with only her for any future house buying or selling. Most realtors will claim that they will help you in every step, but I can't say it's true based on our experience. Kaitlin reset our disbelief in realtors. Kaitlin not only put in extra effort to understand what we wanted for the house, but she also made sure to understand our schedule and needs. We also had some unexpected challenges with canceling our first contract because of an intense structural engineering issue and a third party suddenly being the seller instead of the original owner with our second contract. Kaitlin did all the work by finding the contractors we needed quickly to make sure the house was safe and also read complicated, long documents that even lawyers would take a while to read and process. Months after we bought the house we loved thanks to her leading the process, we had some minor questions about the house we never learned from the previous owners. We emailed her to ask the questions and she literally came to the house, studied how things worked, and put in a very detailed explanation of how things work! Her commitment to her client's success and happiness is amazing and she's truly an incredible realtor who not only excels at finding the right house, buyers, and contractors but also really cares to make sure her clients end up where they want to be with ease. I cannot recommend Kaitlin highly enough. If you are trying to find a realtor that will give you honest feedback on the houses and also find the perfect vendors, Kaitlin is the perfect realtor. Even though we worked with her only as a buyer, I'd say she'd also be excellent for sellers based on the commitment we saw from her.
Kaitlin was an absolute rock star throughout the entire home buying process and I cannot recommend her enough! Her attention to detail and work ethic were incredibly impressive – she made things go so smoothly and gave me the confidence needed to tackle any challenge that came up. Kaitlin is a true real estate expert who is highly capable of navigating the complexities of finding a new home. She went above and beyond to answer my many questions and guide me along each step of the way. If you need a real estate professional, Kaitlin is your answer!
It was an absolute joy to work with Kaitlin! It was my first time going through the buying process and Kaitlin helped me through every step of the way. I always looked forward to meetings with her and she was patient throughout the whole process. Once we found a quality candidate, she worked diligently to put a winning offer in. She knows Denver so well and is always keeping up to date on the latest market trends and listings. She was referred to me by a friend and I would refer her to anyone looking for a new home.